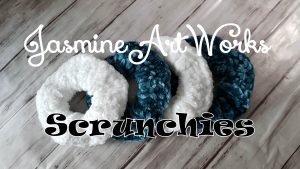 There is this new…. or should we say old fad that has recently come back full force. It's Scrunchies! Everyone is wearing them in their hair and on their wrists again! I decided to try my hand at making some for my daughter (13) who just had to have some for her hair. I got my hands on this AMAZING yarn from Yarnspirations Bernat Velvet. And the texture is so soft! Like butter. Easy to work with and extremely forgiving. Make a mistake and no one knows! LOL
When I started selling them they went like hotcakes! .. I can't make them fast enough!
I decided to go ahead and make a video tutorial so you all can make them too. See Below: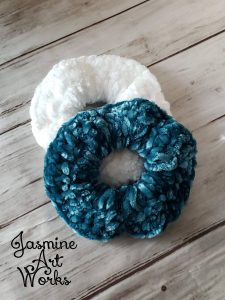 Here's what you need:
Bernat Velvet Yarn (1 skien makes like 13 scrunchies!)
Scissors/ Needle
DIrections:
1- HDC Foundation Chain 45
2- CH 2, Rotate, DC in each stitch along the line, turn
3- Ch2 (counts as first DC) Dc in each stitch.
For large Scrunchies Repeat Row 3
CH 1, Fold Project lengthwise and wrap around elastic. Put hook in first st on the front side and then put hook through st on the back side, sc sides together around elastic. (See Video for technique) Continue in this manner single crocheting all the way around securing front and back together. Tie off, leave length for sewing ends together. Use needle to sew ends together and weave in ends.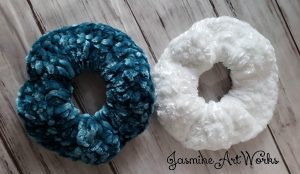 All Sorts of fun Things to crochet here at JasmineArtWorks! Take a look at the Harry Potter Book Bag Pattern! Or how about a Special Disney Sidekick!