Neccessity makes for great invention. Well, at least cute ones in our house.
One of my favotire things is our dog Mabel. Mabel is a Wheaten and well, she is all joy and goodness. I am biased to the breed and O think its really the sweetest kind of dog a person could possibly have. Mabel is such a special help and comfort for my Autistic daughter, she gets anxiety when we leave Mabel at home. So I came up with an idea so my daughter could take Mabel with her everywhere she goes…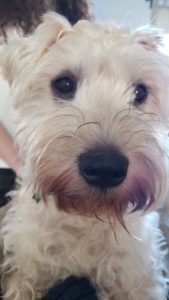 I crochet a little key chain that looks like Mabel. It was so easy and fast. The materials are super soft and so forgiving of mistakes!
We were all happy with the end result. My daughter LOVES it!
I shared it on one of the breed's adoring facebook pages and they loved it too.. so much that a few asked for the pattern. I decided to go ahead a write it down and share the pattern here for all.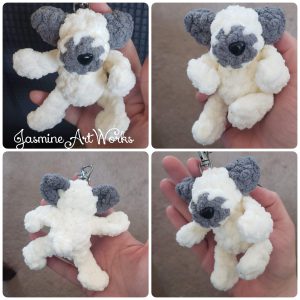 .
Im not sure what we'd do without our dear puppy!
Supplies I used:
Yarn: https://amzn.to/3QQ8mbc
Hook: https://amzn.to/3wxwhVt
Nose: https://amzn.to/3AqHiKd
Yup, I get a little kick back when you click on these links to purchase on amazon. But hey… free pattern!
Pattern Is available here: Wheaten Greetin Keychain Directions
Thanks all~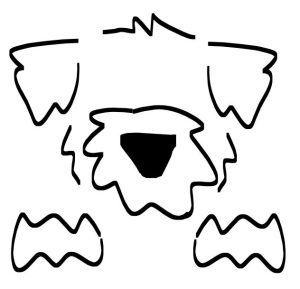 More Mabel Patterns!