Every year I feel the pressure to make adorable paper dollar store, pinterest worthy valentines for my kids and their friends and teachers. I had determined to take myself out this year.. but then I saw a box of conversation hearts at the grocery store and I thought I could I crochet a cute pocket to put it in? Of course crochet beats out paper and glue any day. With some tweaking and ideas from my little crazies the Candy Pocket pattern was made!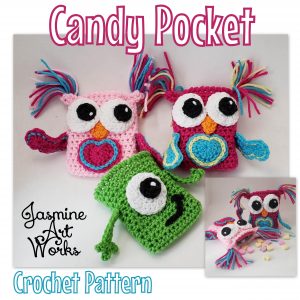 So here is newest pattern at JasmineArtWorks. Made to hold the little box of yummy conversation hearts, or a hand full of chocolate kisses, this pocket is the perfect gift for any kid or teacher!
Fast and easy to make this pattern comes with 4 printable pages.
And Until February 4th its absolutely free!!! Use coupon Code CANDYPOCKET at checkout and you'll get it absolutely free!
Check it out here!
UPDATE! Because of a coding error for the email after ordering (NOW FIXED) I'm offering the pattern right here especially for the 60 people who already ordered and never got to download… Ugh Its a learning curve!!. Just click to download. This link will only be available until Feb 4th