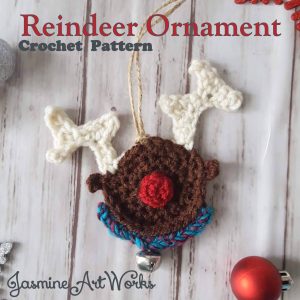 This time of year is so magical. Whimsical is another good word to describe it. I love love love home made ornaments on the tree.. my kid's painted popsicle stick picture frames and hot glued beaded candy canes are wonderful, and I've been thinking.. this year I'm making some of my own to add to the tree. While thinking of what I wanted to make I thought nothing is more classically whimsical, magical and holiday than Rudolf the red nose Reindeer… so… I came up with this darling Rudolf ornament.. and then couldn't stop making them! Wrote down what I did for all of you!
If you want an easy printable pdf for cheap you can find it here
Materials:
Size 4 worsted weight yarn. Cream, and Red, Dark Brown, and whatever color you want the collar.
4 mm hook, Needle/Scissors
Optional:  Jingle Bells
Terms:
Stitch – ST
Chain – CH
Single Crochet – SC
Double Crochet  – DC
Half Double Crochet – HDC
Slip Stitch – SL ST
Skip Stitch – Sk St
Single Crochet 2 stitches together – Sc2tog
(An invisible decrease stitch makes these look nice and smooth)
Between * * repeat this many additional times "x"
End of row (Parenthesis) total number of stitches in row
Magic Circle – MC
Great tutorial for MC: https://www.youtube.com/watch?v=p298HxgsO1s
HDC Third Loop refers to the extra loop behind the stitch.
Note: when changing colors work ends into stitches as you go along. This allows for less end weaving at the end of project. Big Note: I'm left handed; all pictures are shown with left handed progress unless otherwise stated. Pattern works for both left and right-handed crafters.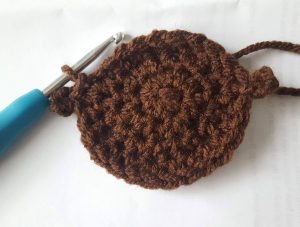 Face: With Dark Brown
1 – HDC 6 in mc pull tight
2 – 2 hdc in each st around (12)
3 – *2 hdc, hdc* repeat 5x (18)
4 – 2hdc, hdc, hdc, 2hdc, hdc, hdc, 2hdc, ch 5, sl st into previous hdc (ear), continue around hdc, hdc, 2hdc, hdc, hdc, 2hdc, hdc, hdc, 2hdc, hdc, hdc, , ch 5, sl st into previous hdc, sl st in next st. Chance color to light brown/cream. Antlers are next. remember pictures show left handed progress, if you are a right handed crafter you'll start with Rudolf's left antler and then right.
Chain 8, *sc into second chain from hook, sc next, sc next, ch 4, sc 2nd ch from hook, sc next, sc next, sl st into third ch from original chain st, sc next sc next, ch 3, sc into 2nd ch from hook, sc, sl st into original chain st, sc sc sl st into original hdc on head.* Sl St into 3RD LOOP of the next 7 hdc stitches on head, sc into next st, Ch 8 (starting the next Antler, TURN chain of 8 and work on back side repeating previous antler steps. Between **
Tie off and weave in ends.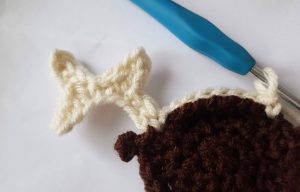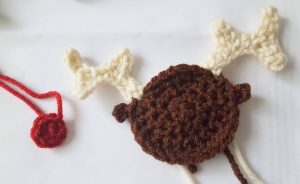 Nose: With Red SC 6 in MC pull tight, sl st in first sc, tie off and use ends to sew to center of face.
Collar: Count 4 stitches from antler sc in third loop in the next 6 hdc stitches, take out hook, pull loop up and thread into bell. Put hook back in, pull snug and continue to sc in the next 6 stitches in the third loop. Tie off and weave in ends.
With jute cord, or more yarn tie a 9 inch long strand to the middle stitch between the antlers.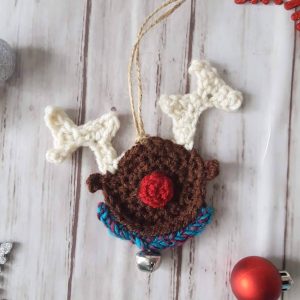 All Finished and ready to put on your tree or gift to your favorite ornament hoarder.
Find the PDF version ready to print here: http://jasmineartworks.com/product/rudolf-reindeer-crochet-pattern-ornament/