Ever look for that perfect gift to make for that person who is waiting to find out what they are having?! It can be super frustrating trying to pick the right colors, yarn, materials etc for something special that they are going to love. In the past few years I've discovered that Nautical themed nursuries are the trick that soon to be parents pick when they don't know what they are having. I LOVE all things Nautical and recently came up with the first of several Nautical themed crochet patterns!
This little lovie comes complete with its own "water" puddle blanket, spout and soft cuddly edges. I chose teal greens for this example but it would look amazing in other colors like  orange, yellows, blues, rich greens and greys!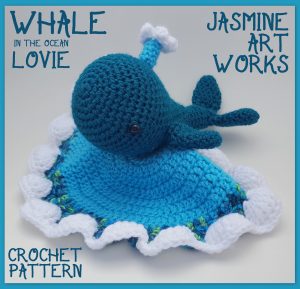 Not only is this the perfect Gender neutral gift for any baby shower, but its super easy to make and super fast to put together!
This little Whale lovie pattern is found here on http://jasmineartworks.com/product/whale-lovie-crochet-pattern/ and on my etsy page www.etsy.com/jasmineartworks.