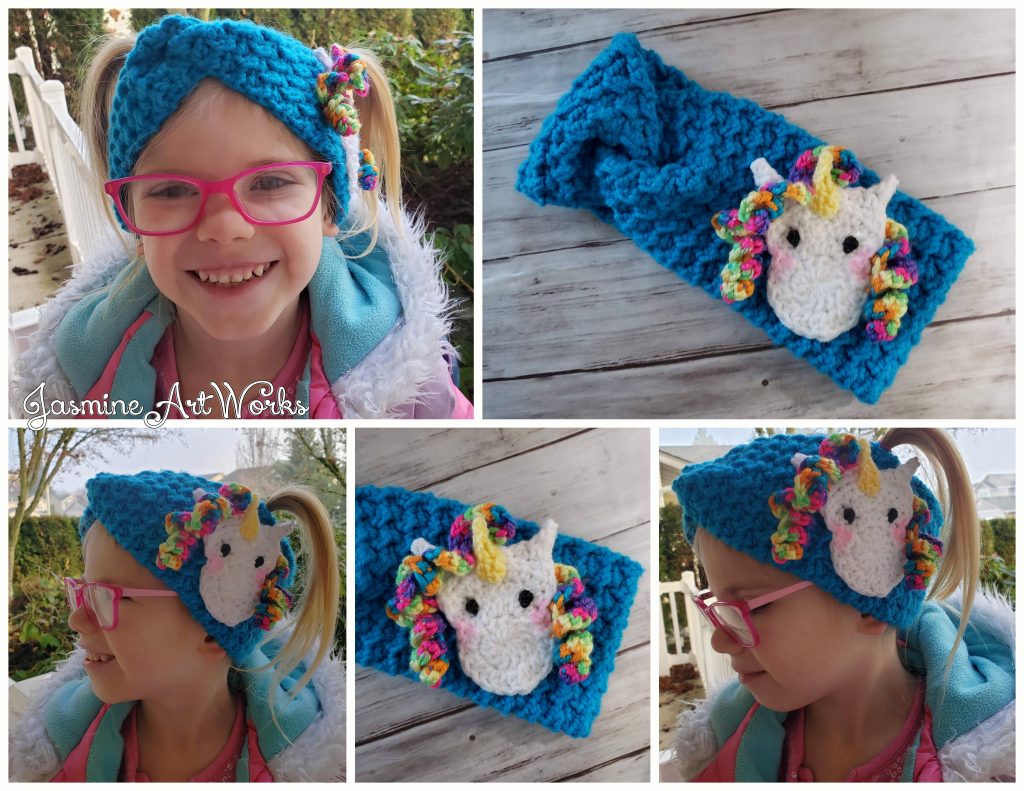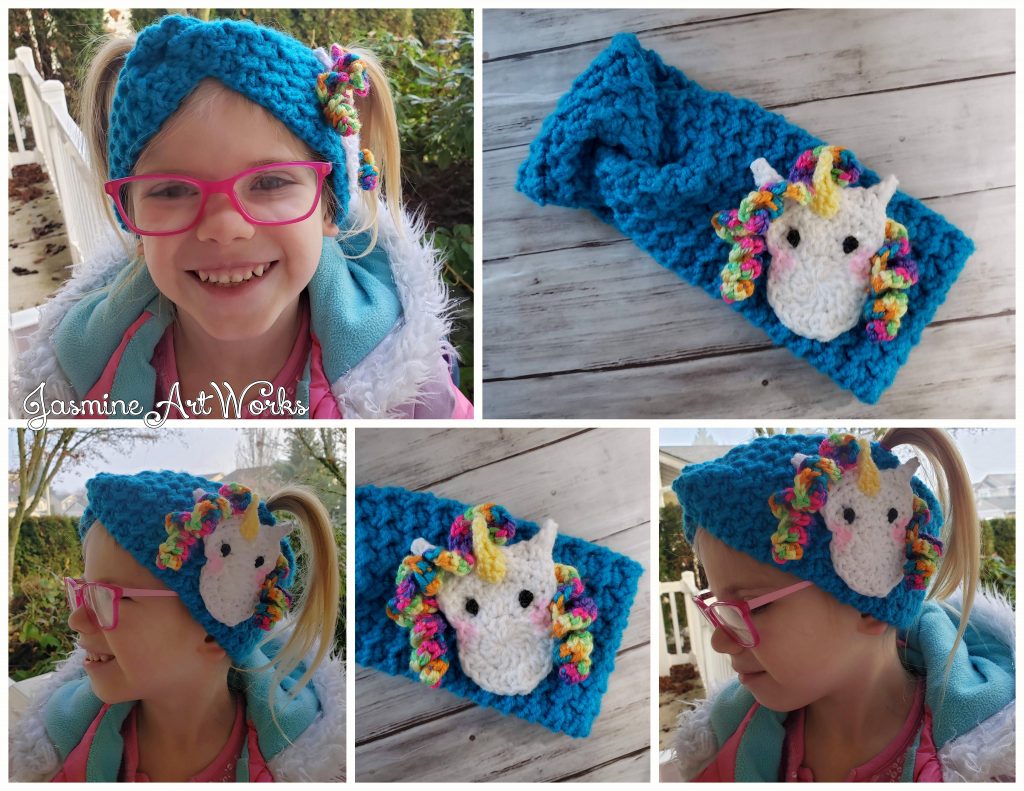 My kids come to me with all sorts of ideas on what they want and what I should make for them. They tend to ask for the most trendy things at the time. I'm ok with that. My littlest said to me recently when I was making an adult headband "Ohhhh I like that! I want a rainbow unicorn headband!!!" And this was what I came up with. She Loves it! and all her friends want one now too.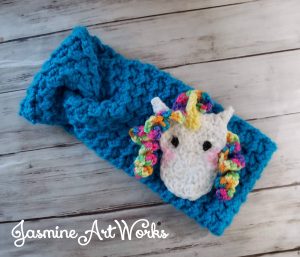 I'm so excited to share with you how to make it!
First things first.. Gather your Materials:
Your gonna need a size 4 worsted weight yarn in blue (main color, blue grotto) White (unicorn) and a rainbow variegated yarn (hair) and a teeny bit of black, and Yellow
needle and scissors
Optional: A little dry paint brush (I like the set in the link, size 6), and pink acrylic paint.
Stitches used:
SC – Single Crochet
HDC – Half Double Crochet
DC – Double Crochet
SL ST – Slip Stitch
CH- Chain
SC2TOG – single crochet 2 together
MC – Magic Circle
* Repeat between *
You'll make your headband first. With your main color chain 17.
1 – sl st in 2nd chain from the hook, *hdc in the next ch, sl st in the next ch* repeat until the end, (last stitch is a hdc) ch 1 turn (16)
2 – *sl st, hdc* repeat entire row. (you'll put your sl st in the previous row's hdc and your hdc in the previous row's sl st) Ch1, turn
3 – 73 repeat row 2.  You can do less rows for a smaller band, This one fits my 6 yr old I'd say it would fit between and 5 and 8 yr old.
With right sides together, fold ends lengthwise. (shown in a cream color large size for better pictures.)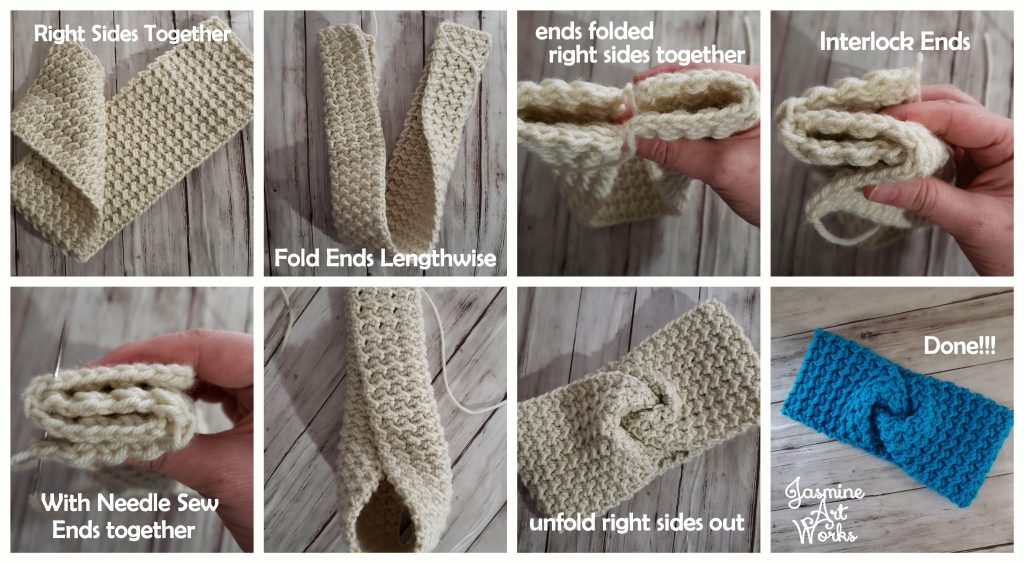 Weave in ends.
Ok, now on to the Unicorn!
1 – With White in a magic circle: Ch 2 (doesn't count as dc), and dc 12 times. Pull tight, sl st into top of ch2, ch 1 (12)
2 – 2 hdc in each st around, sl st into ch1 to join (24)
3 – ch 1, 2hdc, hdc, 2hdc, hdc, 2hdc, hdc, 2hdc, ch 1, TURN (11)
4 – hdc next 11, ch 1, turn (11)
5 – sc2tog, sc next 7, sc2tog, turn (9)
6 – (ears) ch 5, sl st in 2nd ch from hook, sl st in the next ch, sc in the next ch, hdc in the last ch, sc into the next st on the head, sl st in the next 5 (top of head), sc, chain 5, sl st in to the 2nd chain on the hook, sl st next, sc in the next ch, hdc in the last ch, sc into the next st on head, sl st into last. Tie off and leave length for sewing to head.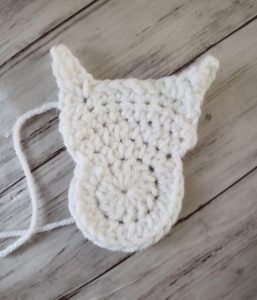 On to the hair. You make these by simply making 3 twists. With your colorful rainbow variegated yarn chain 20, 2sc in the 2nd chain from the hook and every chain there after until the end. Tie off and leave length for sewing. You will sew the hair to the back of the head. One on the top, and one on each side of the face.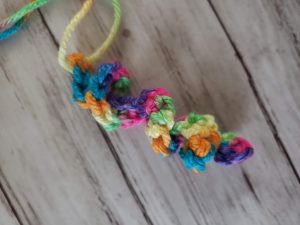 Horn: With Yellow. ch 6, sl st in 2nd chain from hook, sl st next, sc next, sc, hdc last. Tie off. Leave length for sewing to center head.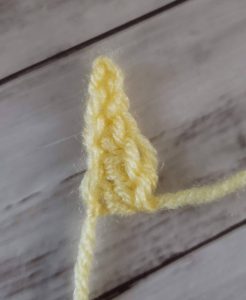 Once all the parts are sewn on, use the end of the white from the head and sew at an angle on the headband.
Grab you black and with your needle sew on 2 eyes. I did this by making a few knots in the yarn and pulling through the applique.
Optional: with your dry brush and teeny bit of pink acrylic paint dab the cheeks to make your unicorn blush.
Done!!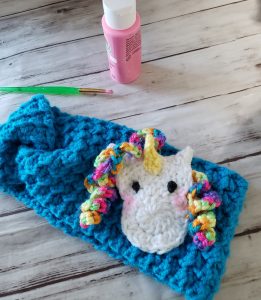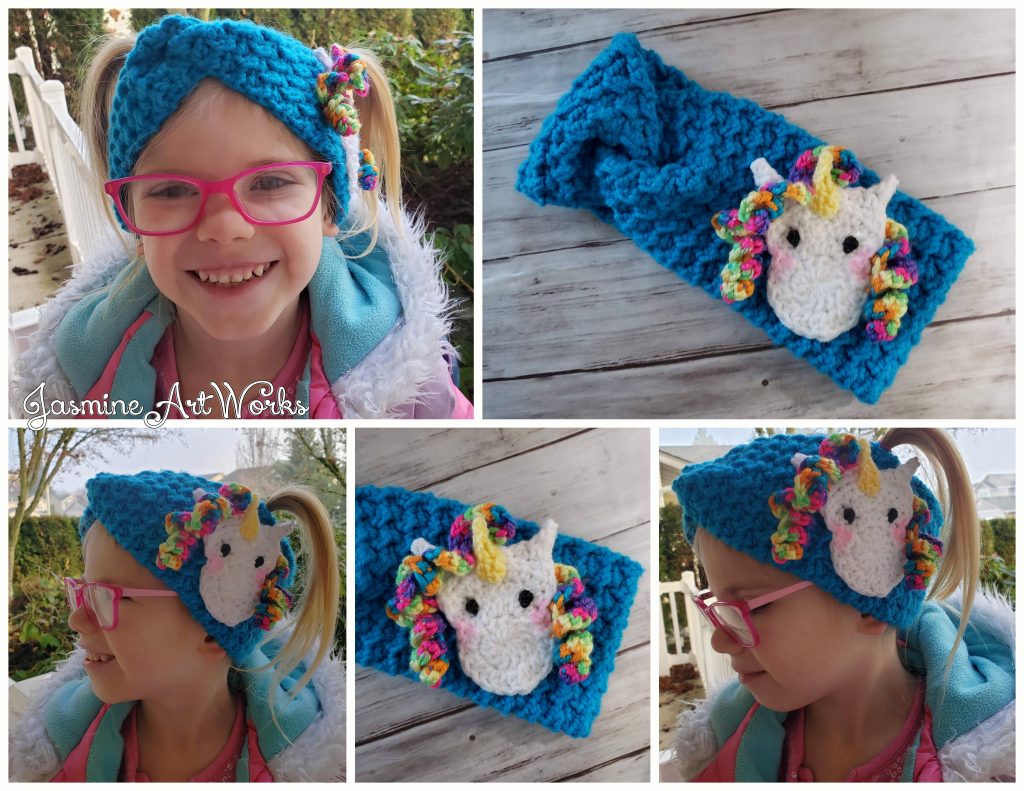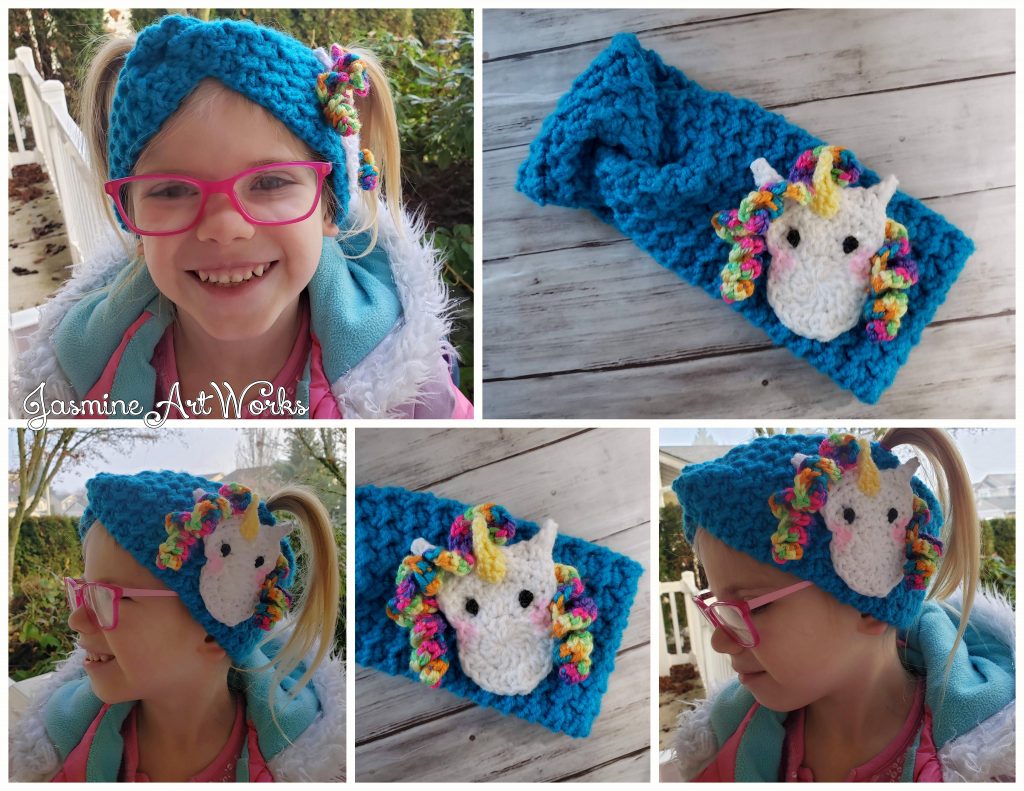 Thanks so much for viewing my blog! Please be sure to check out all the wonderful patterns available. There is a full UNICORN pattern complete with wings and movable legs found here. How about a Unicorn Hobby Horse on a stick made with Yarn! Super easy pattern here. Or how about a night light unicorn! Great gifts for any of your sweet little ones!