So I made this silly thing.. for me. I kept loosing my AirPod Case.. I needed something to store it in that would make it easier to find. Of course I pulled out my yarn and after several attempts and finding just the right gouge and amount of stitches… this adorable bunny was born. She snugly holds the case in her head and her bottom half hinges with the case for easy access to the pods. There is even a little whole on the top for the charging cord to fit through. (if your pods heat up while charging, I wouldn't recommend charging with the bunny on, mine don't so I don't worry about it.)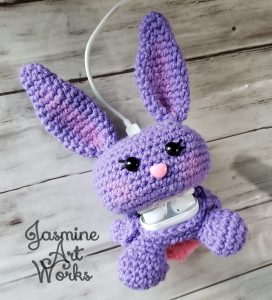 With a little acrylic paint brushed on her ears and cheeks she has an unparalleled cuteness! I couldn't believe how simple it was to make after figuring out just the right size.. she only uses single crochet stitches and is worked in rounds with easy joining and sewing. So I made several bunnies (as everyone in the house has an airpod set… But then I expanded a bit.. thinking I could make it into other animals… so then I made a bear! So stinkin cute!
It was so easy to simply change the color yarn, and ear shape that I took it even further… The all too popular space series has a new little character that everyone has been raving over and making several little toys with green yarn… so I made the AirPod cover in green and put the ears on the side, bigger eyes (same placement)… Oh my goodness did that turn out so cute! What a sweet baby green alien!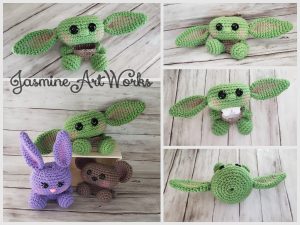 After a few tweaks and pictures taken I made up the pattern to share. Posted it on my facebook page: www.facebook.com/jasmineartworks and shared it with a few crochet groups… and its caught fire! Within 48 hrs the post has been seen over 54 thousand times!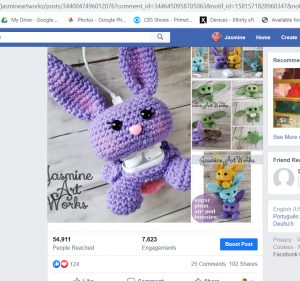 This is a screen shot of my post this morning. I'm so glad that I was able to share something so many people need! Happy Crafting!
You can get your pattern on Etsy,
https://www.etsy.com/listing/777087405/sugar-plum-airpod-bunnies-case-crochet
Now also Available on Ravelry
https://www.ravelry.com/patterns/library/sugar-plum-airpod-bunny-case
And JasmineArtworks.com!
https://jasmineartworks.com/product/sugar-plum-airpod-bunnies-case-crochet-pattern/
Here is a little video on the finished bunny and how it works.